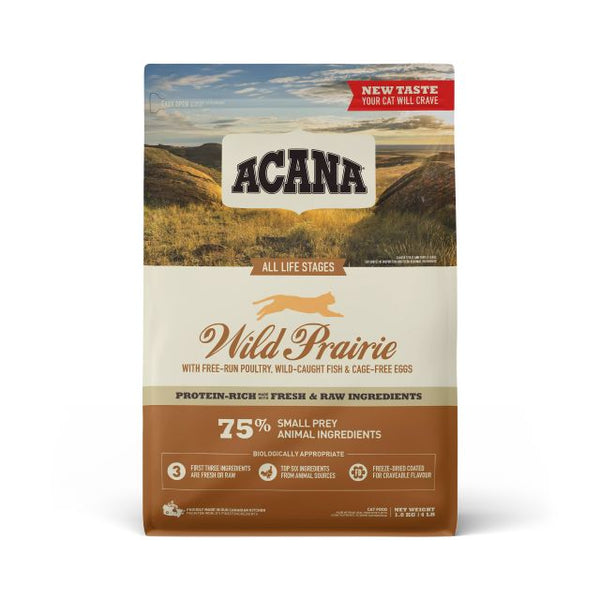 Acana Premium Cat & Kitten Food | Wild Prairie Grain-Free Formula
What's good about this cat food?
Loaded with 75% protein-rich meat ingredients, including cage-free chicken, cage-free turkey, nest-laid eggs, and wild-caught fish from northern lakes
Proudly made in Alberta with fresh Canadian regional ingredients
Contains 25% fresh local fruits, vegetables and botanical
Grain-free, gluten-free, GMO ingredient-free
Carbohydrate-limited diet
Ingredients
Fresh chicken meat (9%), fresh turkey meat (9%), fresh chicken giblets (liver, heart, kidney) (9%), chicken meal (8%), turkey meal (8%), whole herring meal (8%), whole green peas, whole red lentils, whole chickpeas, chicken fat (5%), fresh whole eggs (4%), fresh wild-caught walleye (4%), fresh wild-caught trout (4%), fresh turkey giblets (liver, heart, kidney) (4%), whole green lentils, whole pinto beans, whole yellow peas, pollock oil (2%), sun-cured alfalfa, dried chicken cartilage (1%), dried brown kelp, fresh pumpkin, fresh butternut squash, fresh parsnips, fresh green kale, fresh spinach, fresh mustard greens, fresh turnip greens, fresh carrots, fresh red delicious apples, fresh bartlett pears, freeze-dried liver (chicken and turkey) (0.1%), fresh cranberries, fresh blueberries, chicory root, turmeric root, milk thistle, burdock root, lavender, marshmallow root, rosehips, enterococcus faecium.


Supplements
Choline, Zinc Chelate, Copper Chelate.
Guaranteed Analysis
Crude protein (min.) 37 %
Crude fat (min.) 20 %
Crude ash (max.) 7 %
Crude fibres (max.) 3 %
Moisture (max.) 10 %
Calcium (min.) 1.5 %
Phosphorus (min.) 1.1 %
Taurine (min.) 0.15 %
Omega-6 fatty acids (min.) 2.9 %
Omega-3 fatty acids (min.) 0.9 %
DHA (min.) 0.2 %
EPA (min.) 0.2 %