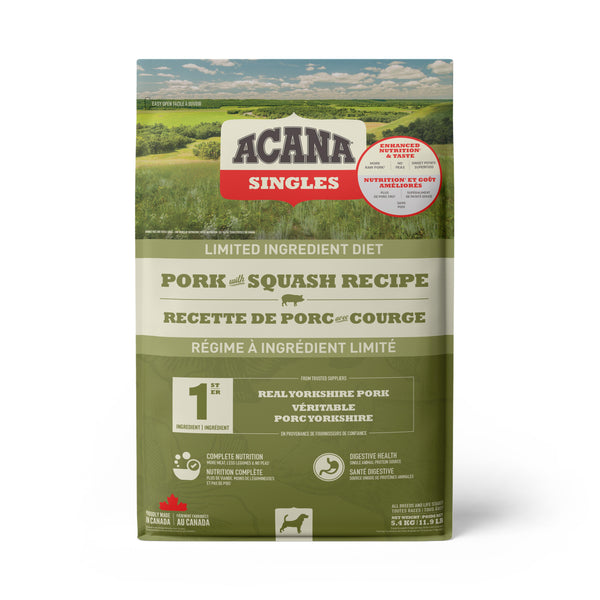 Acana Premium Dog Food | Pork with Squash Grain-Free Formula
What's good about this dog food?
Limited-ingredient, single protein diet ideal for dogs with food sensitivities
Loaded with 50% Alberta pork ingredients
50% fresh local fruit and vegetable ingredients, including butternut squash and pumpkin, providing a rich source of soluble fibre to settle sensitive stomachs and support healthy digestion
Grain-free, GMO ingredient-free, gluten-free, potato-free and tapioca-free
Supplemented with marine algae, a natural source of Omega-3, DHA and EPA fatty acids
Ingredients
Fresh yorkshire pork (16%), pork meat meal (16%), whole green peas, whole red lentils, fresh pork liver (6%), pork fat (6%), fresh pork kidney (4%), fresh whole butternut squash (4%), whole garbanzo beans, whole green lentils, whole yellow peas, dried pork cartilage (2%), lentil fiber, marine algae (1.2%) (pure and sustainable source of DHA and EPA), fresh whole pumpkin, dried brown kelp, freeze-dried pork liver (0.1%), salt, fresh whole cranberries, fresh whole blueberries, chicory root, turmeric root, milk thistle, burdock root, lavender, marshmallow root, rosehips.
Supplements
Vitamin D3, Vitamin E, Zinc Chelate, Copper Chelate.
*Contains mixed tocopherals (a tocopheral rich extract of natural origin- Vitamin E and Rosemary Oil). Also contains the probiotic Enterococcus faecium.
Guaranteed Analysis
Crude protein (min.) 27%

Crude fat (min.) 15%

Crude fiber (max.) 6.5%

Moisture (max.) 12%

Calcium (min.) 1.9 %

Phosphorus (min.) 1.2%

Calcium: Phosphorus Ratio 1.5:1

Omega-6 (min.) 4%

LA (min.) 3.9%

Omega 3 (min.) 1%

EPA (min.) 0.1%

DHA (min.) 0.2%

Omega 6:Omega 3 ratio 4:1

Glucosamine (min.) 600 mg/kg

Chondroitin sulfate (min.) 800 mg/kg