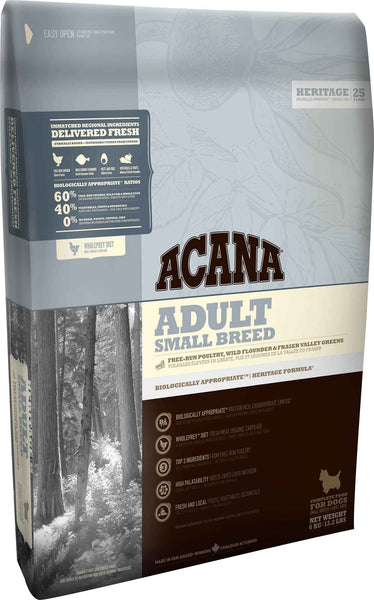 Acana Premium Dog Food | Adult Small Breed Grain-Free Formula
What's good about this dog food?
For small breed dogs over 1 year of age
Proudly made in Alberta
Grain-free, Potato-free, GMO-free, Gluten-free
60% free-run chicken, wild-caught fish and nest-laid eggs
40% local fruits, vegetables and botanicals
Zinc is the only supplement
Ingredients
Fresh chicken meat (12%), chicken meal (12%), turkey meal (12%), red lentils, whole green peas, field beans, chicken fat (5%), fresh chicken giblets (liver, heart, kidney) (4%), herring meal (4%), fresh whole eggs (4%), fresh whole flounder (4%), herring oil (2%), sun-cured alfalfa (2%), green lentils (2%), whole yellow peas, pea fiber, fresh chicken cartilage (1%), dried brown kelp, fresh whole pumpkin, fresh whole butternut squash, fresh whole parsnips, fresh kale, fresh spinach, fresh mustard greens, fresh turnip greens, fresh whole carrots, fresh red delicious apples, fresh Bartlett pears, freeze-dried chicken liver, freeze-dried turkey liver, fresh whole cranberries, fresh whole blueberries, chicory root, turmeric, milk thistle, burdock root, lavender, marshmallow root, rose hips.
SUPPLEMENTS
Zinc chelate. Vitamin E (preservative).
*Contains mixed tocopherols (a tocopherol rich extract of natural origin- Vitamin E and Rosemary Oil). Also contains the probiotic Enterococcus faecium.
Guaranteed Analysis
Crude protein (min.) 31 %
Fat content (min.) 17 %
Crude ash (max.) 7 %
Crude fibres (max.) 5 %
Moisture (max.) 12 %
Calcium (min.) 1.4 %
Phosphorus (min.) 1.1 %
Omega-6 fatty acids (min.) 2.6 %
Omega-3 fatty acids (min.) 1 %
DHA (min.) 0.3 % EPA (min.) 0.3 %
Glucosamine (min.) 1400 mg/kg
Chondroitin sulfate (min.) 900 mg/kg
Linoleic acid (min.) 2.4 %
Carbohydrate (NFE) 28 %